Welcome
My name is John D. Crow, I am a descendant of both the Crow & Lee families on my father's side, Adair & Fade Families on my mother's. I began researching this information approximately 25 years ago hoping to document our families history for my 3 children and grandchildren. My original goal was to find the family connection to General Robert E. Lee. I was also very interested in trying to find a family connection to John David Crow (7/8/1935 - 6/17/2015) a famous football player from Texas A&M and Heisman Trophy winner.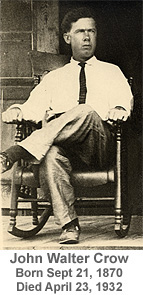 When I started genealogy, I started with the one document I had in my possession and that was, my grandfathers death certificate, John Walter Crow. I called Elaine Ingram Lockhart, the county clerk in Groveton, Trinity County, Texas. I was shocked to learn that she knew who I was and knew my father, his brother, his sister and my grandparents. As it turns out she went to school with them. Over the years I've received many envelopes filled with court house records and correspondence from Elaine Ingram Lockhart. Most of the information would not have been possible had it not been for Elaine Ingram Lockhart sending me this information.
It's funny how stories are handed down over the years. I was always told that John Walter Crow (My Grandfather), a constable in Apple Springs, Texas was killed by someone he was trying to arrest for boot legging! While doing this research I discovered the truth through the Lufkin Daily News, dated Monday April 25, 1932.
I'd like to thank all the relatives who have contributed information. I would especially like to mention Melinda Gail Campbell (Lee Family #120) who supplied me with a lot of information she gathered on the Lee Family.
Please feel free to look around and enjoy the website. This website covers all of the following names, just to name a few: Adair, Adams, Ainsworth, Blakely, Bourbon, Camaioni, Campbell, Crow, Davis, Eamello, Fade, Grimes, Hayman, Landrum, Lee, Milliron, Moulds, Murry, Quarles, Randolph, Roach, Smith, Teer.
Also I plan to include scans of documents, pictures of headstones, Birth Records and Certificates and much more.
Headstones
Birth & Death Certificates
Records
Photo Gallery






We hope you'll join and help us spread the word. We do all sorts of restorations, background changes, contrast and brightness, sharpening, etc. Not all images can be fixed, not all images will see a 100% improvement but we'll do what we can. Hope to see you there. Click Here
Home | Headstones | Birth & Death Certificates | Records | Photo Gallery | Resources | Contact